Configuration Reference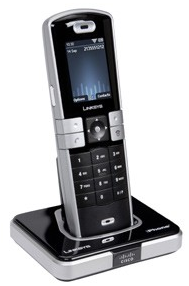 Using Linksys/Cisco WIP310 WiFi Phone
Please Note that this device is not an AltiGen certified 3rd party SIP device. AltiGen cannot ensure Cisco support. If Cisco makes a firmware change that creates a problem, AltiGen will be unable to resolve the problem.
Version: 1.0 Date: March 2009
Introduction:
Linksys/Cisco WIP310 is a WiFi phone that can be used as 3rd part SIP device with AltiGen system. It is deal for small office mobility application without complicate call handling requirements.
This document provides a step-by-step guide to set up the WIP310 to work with an AltiGen server via a third-party SIP extension. The following functions/operations are verified after WIP310 is properly configured:
Register to AltiGen System as a SIP extension
Make a call to an extension, outside number, and 911
Dial ## and #xx (feature code)
Receive an inbound call with caller ID
VM Message Waiting Notifcation
Limitations:
Cannot Hold, Transfer, Conference and Park a call
WIP310 is installed internally. NAT Traversal over WAN connection is not tested.
Requirements:
AltiServ:
Software - ACC/ACM 6.0 or above. License – third-party SIP device license is required for WIP310 to register as an IP extension Configuration – Check the "Enable 3rd Party SIP Device" check box in the Extension Configuration screen for the extension that WIP310 will connect to.
Linksys WIP310 Adaptor:
Firmware – Version 5.0.8
A. Setting up WiFi Network
Please follow the steps documented in the WIP310 quick installation guide to connect WiFi network and get an IP address for this device.
It is recommended that you add all the WiFi AP into profile so that user can select which AP to use.
Get IP address from Setting/Phone Info
B. Configuring WIP310
From a PC in the same LAN as WIP310, pen a browser, enter WIP310 IP address in URL, and press enter to launch web admin for the WIP310.
Configure WIP310
Click Admin Login on the following configuration screen.

You will see the following admin menu options:


System Configuration Page
1. No change to this page unless you would like to change Network configuration for this phone.

SIP Configuration Page
Enter AltiGen server IP address in SIP Server Name field.
Enter AltiGen IP Phone 0.1 in both SIP User Agent Name and SIP Reg User Agent Name fields.

Change Linksys Key System setting to "no" and click Submit All Changes

Regional Page
Scroll down to Miscellaneous section.
Change Time Zone to your local time zone
Phone Page
Enter Station Name. This name will be displayed on the phone.

Ext 1 Page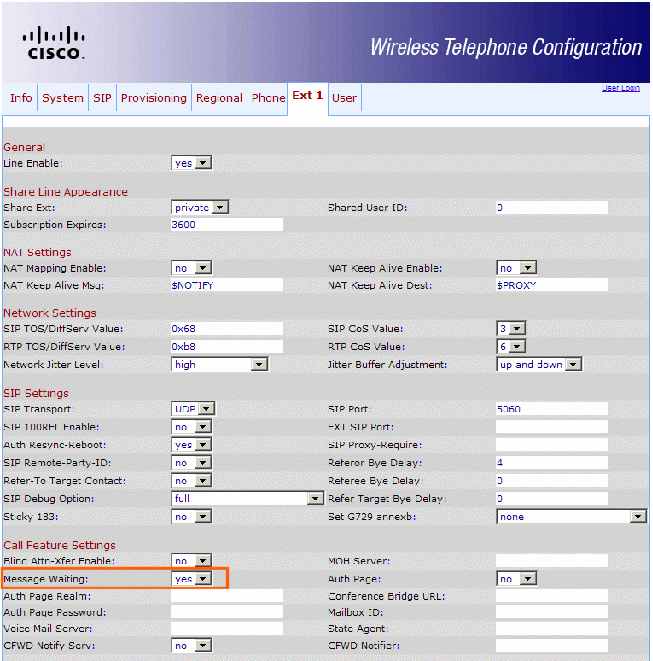 In Call Feature Settings
Change Message Waiting to YES.

In Proxy and Registration Section:
Enter AltiGen server IP address in the Proxy field.
In Subscriber Information Section
Enter User Name in the Display Name field
Enter extension number in the both User ID and Auth ID
Enter extension password in the Passowrod field.
In Dial Plan Section
Dial Plan is crucial to allow dialed numbers to pass though WIP310 correctly. Please erase the default Dial Plan entry and replace with the following pattern. You may copy and past the following stream to the field.
(##|#[1-9]x|[1-8]xx|911|0|9[2-9]xxxxxx|91xxx[2-9]xxxxxx|9011xxxxxxxxxxxxx.)
Note: The "|" is a dialing pattern divider while x means any number including * and #.
| | |
| --- | --- |
| Dial Plan Pattern | Description |
| ## | To access voice mail. You will not be able to check voice mail if this entry is not defined in the Dial Plan. |
| #[1-9]x | To recognize feature code #xx. The [1-9] is to avoid an ambiguous pattern. |
| [1-8]xx | To recognize extension numbers. This example assumes a 3-digit extension and the first digit can be 1 to 8. If your system uses a 4 digit extension and the 8 is reserved for IP dialing, this pattern will be [1-7]xxx. |
| 911 | To dial 911 |
| 0 | To dial operator |
| 9[2-9]xxxxxx | To dial a 7-digit local number. If your area needs to dial a 10-digit local number, this pattern will be 9[2-9]xxxxxxxxx. If your trunk acce ss code is not 9, you need to change the first number with the correct access code. |
| 91xxx[2-9]xxxxxx | This pattern is to define a long distance call pattern |
| 9011xxxxxxxxxxxxx. | This pattern is to define an international call pattern. It is the trunk access code followed by international prefix and 12 numbers or more. |
Note: You can add other dial patterns into this entry as long as there is no ambiguous pattern. If there is an ambiguous pattern dialed, the WIP310 will wait 4 seconds (inter-digit delay) then send the number to the AltiGen server.
C. Testing
After completing all configurations, you need to verify that the following operations work.
Press ## to check voice mail then hang up.
Dial #27 to check the extension number.
Dial another extension number and connect.
Dial a local number.
Dial a long distance number.
Use another extension calls WIP310 and connects.
Use another extension to leave a message for the extension using WIP310. Check the message waiting icon after the message arrives.