Re-Image Instructions For AltiOffice 3G-R4
Alti-Office3G (equipped with SATA RAID) restore using the System Recovery Image Disks with TeraByte
WARNING: The following procedure will re-format your hard disk and bring the system back to the state it was when it was shipped from AltiGen. All information on the disk will be overwritten. Perform a database backup prior to performing this procedure if necessary.
There are three disks required for re-image of the AltiOffice 3G-R4. Make sure you have identified these three disks prior to re-image: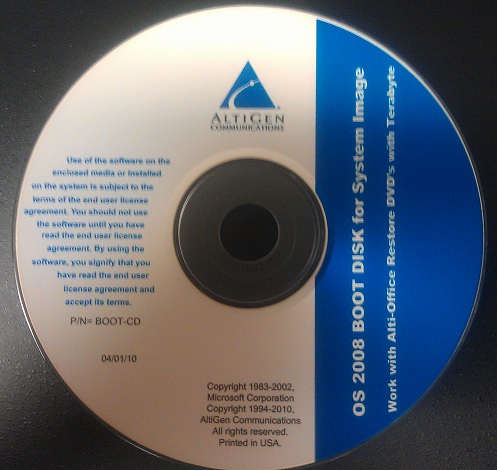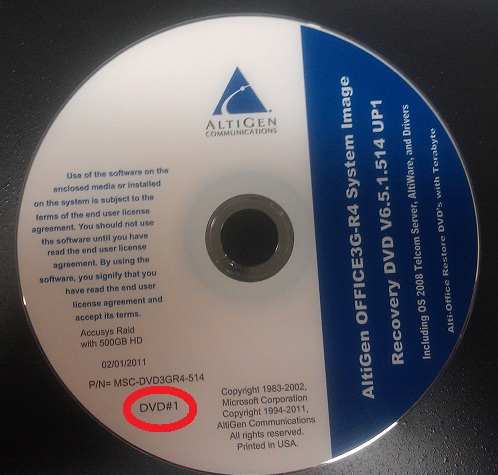 To initiate restore on your AltiGen system:
Shutdown system
Power up system and Insert CD labeled, "OS 2008 BOOT DISK for System Image"
Remove CD at "Main Menu"

Insert Recovery DVD. CD is labeled, "AltiGen OFFICE3G-R4 System Image". Make sure this is the disk labled "DVD#1"
Select "restore" enter
Press tab to select the only image listed, then press enter

You see warning message select "yes" enter
Select "start" enter
The system will prompt you when to change to the next disk
Remove the DVD from the DVD drive and reboot your system after the cloning has completed.
Attachments
No attachments were found.
Related Articles
Visitor Comments