It is the goal of AltiGen Communication's Cloud Operations group to make sure that software running on hosted servers is kept properly up to date. This includes both the MaxCS software, as well as the underlying Windows operating system itself.
Because these updates frequently require a phone service interruption, most end users would like this work to be done outside of business hours. Because scheduling of these updates requires coordination with the end user, it is best left up to the Value Added Reseller (VAR, also known as AltiGen Partner or AltiGen Dealer) to handle these updates. Many updates are related to security issues. In order to ensure the highest across board performance for MaxCS Private Cloud, strict guidelines must be enforced regarding Windows updates.
Acquiring Approved Windows Updates
Note that the information in this section applies only to the servers hosted directly by AltiGen, and does not apply to servers hosted by WorkSpace Communications, Inc.
AltiGen Cloud Operations maintains a WSUS (Windows Server Update Services) that is used to provide updates for all servers that AltiGen hosts. To conserve on network bandwidth, Updates are not available to the customer MaxCS servers from Microsoft, but only from our WSUS. No special configuration on the MaxCS server is required to get the updates from WSUS, simply run Windows Update from the Windows Control Panel. Here the option to "Check online for updates from Windows Update" will fail, because this is not a connection to domain's WSUS, however the option to "Check for updates" or "Check for updates managed by your system administrator" should be successful.

On a bi-weekly cycle, the Operations department downloads the latest patches from Microsoft, and loads them a group of internal usage servers. The servers are then monitored for two weeks, after which the updates are then approved for the customer facing MaxCS private cloud servers. This allows the VAR to know that any Windows updates that they apply are approved by AltiGen.

When launching the Windows Update program, the WSUS server will be automatically queried. To re-fresh this use the "Check for updates" link on the left hand menu. In the section of the windows update screen, a line appears that reads, "Check online for Updates from Windows Update". If this option is selected, the server will attempt to get updates from Microsoft over the Internet, which will result in failure,. The link will then change to "Check for updates managed by your system administrator". Clicking on this link should be successful (it is the same as the left hand menu to "Check for updates).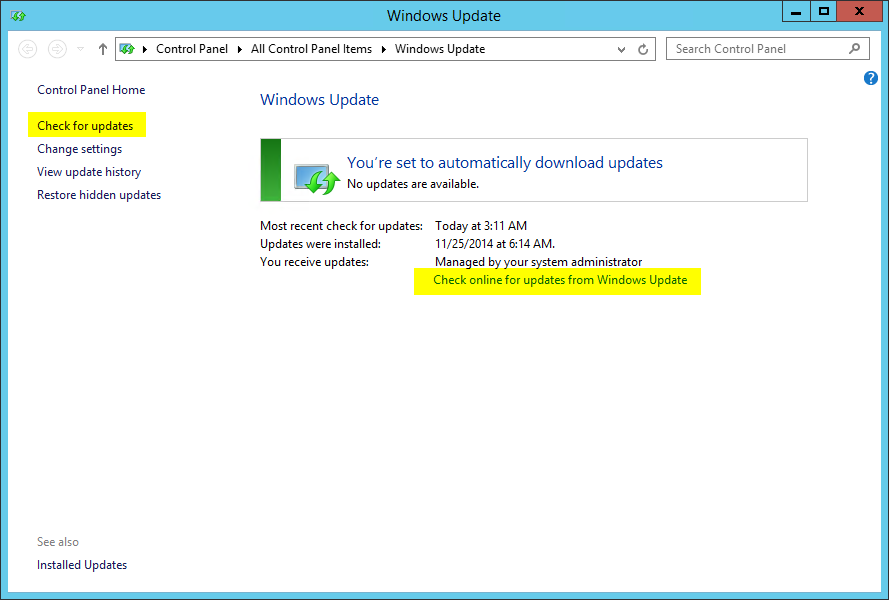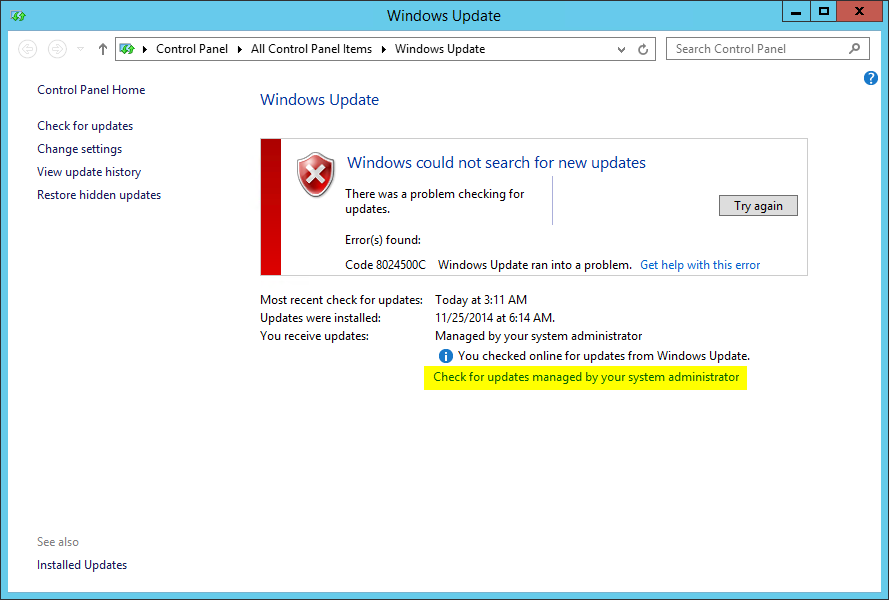 Known issues: It has been observed occaisionally that both methods of checking for updates fail with error code: C80003FA. If this is observed, please close the Windows Update application, then restart the "Windows Update" service from services.msc. Once this has been done, re-launch Windows Update, and Check for updates should be successful.
Frequency of Updates
As a general guideline, it is recommended that Windows Server Updates be installed weekly, and at minimum, it is expected that Windows Server Updates are updated at least every two months. AltiGen's operations department monitors the AltiGen servers to check the length of time since the last application of Windows Updates and will alert the VARs when 60 days have elapsed without updates.
If dealers would prefer to automate the installation of windows updates on their servers, they may do so. This is a fully supported option for AltiGen hosted MaxCS Private cloud servers.
The following guidelines for server updates will be followed. Installing Windows Updates on any day will return the day counter back to day 1.
Days 1-59: The server is in compliance with our update policy. No action is required by the VAR.
Day 60-89: AltiGen Operations will send regular email notifications to the VARs informing them that their machines are not in compliance, stressing the importance of keeping servers up to date.
Days 90-99: After 90 days without updates, emails will be sent to the responsible VAR, along with their sales representative. AltiGen's Cloud Operations department will also attempt to contact the VAR via phone. If the VAR is responsive, and works to provide a mutually agreed upon reasonable schedule for the updates to be applied, then AltiGen Cloud Operations will continue to monitor to make sure that the work is carried out.
Day 100-109: If a server reaches 100 days without updates, and no other agreement has been reached with the VAR, then AltiGen will begin to reach out to the customer to schedule a time for the server to be upgraded.
Day 110-119: After 110 days without updates or constructive replies from the VAR nor the custome, then AltiGen Cloud Operations will schedule an installation of Windows Updates on the server, at a time that is favorable to the AltiGen Operationss department. AltiGen Cloud Operations will provide a minimum of 72 hours notice for this update.
No server should exceed 120 days without updates. If AltiGen Cloud Operations becomes the party responsible for performing what should be a regularly scheduled server updates, a charge of $640 will be assessed to the dealer.
Urgent Updates
AltiGen may, at times, determine that specific updates are required to be installed on the servers as soon as is possible. In this event, Operations should immediately reach out to all dealers to begin scheduling of the update, with a goal of having all servers patched as quickly as possible. It is estimated that updates of this nature would occur less than once per year. While this may need to be handled on a unique case-by-case basis depending on the actual update involved, the following guidelines should be followed:
Day 1: AltiGen alert all dealers via a bulletin. Any urgent update would likely impact all AltiGen servers, not just the hosted offerings. Operations should also separately notify all VARs via the notification instructing them how to perform the update on their hosted systems. It should be stressed that the update is best installed same day.
Day 2: AltiGen Operations check against each hosted server to confirm the updates. For servers not updated, AltiGen Operations again reaches out to the VAR with a notification.
Day 3: AltiGen Operations checks server status to determine which servers have not yet been updated. At this point, Operations contacts Sales to coordinate phone contact with the VARs to schedule updates. If a mutually agreed update time has been determined, then Ops will monitor for that.
Day 4: AltiGen Operations checks server status to determine which servers have not yet been updated. Operations and Sales continue to contact the VARs to schedule updates if they have not yet been responsive.
Day 5: AltiGen Operations checks server status to determine which servers have not yet been updated. At this point Operations and Sales will look to contact the end user to schedule a time for this update.
Day 6: Continuing on from day 5, AltiGen will coordinate with VAR or Customer.
Day 7: If there has been no constructive response from the Dealer or VAR, Operations will install Windows updates at a time that best fits Operation's schedule.
Note that Urgent Updates do not count as "Regularly Scheduled Updates," and no charge is assessed to the dealer for urgent updates.
Emergency Updates
If a server is having a failure that is causing an impact on any other customer machine, or on the hosted infrastructure as a whole, AltiGen Operations reserves the right to install Windows Updates on the problematic host, and take any other immediate action necessary to resolve the issue. Operations should attempt to contact the VAR to notify them of the situation, but response from the VAR is not required for Operations to take action.
Note that Emergency Updates do not count as "Regularly Scheduled Updates," and no charge is assessed to the dealer for Emergency updates.