Updating JRE for AltiReport (MAXCS 8.5 and later)
Thsi article provides instructions for upgrading JRE 8 for AltiReport MAXCS 8.5 and later.

AltiReport 8.5 comes with a default 64-bit JRE 8. If there is a need to upgrade to the latest 64-bit JRE 8, follow the steps in this article.

Before you apply the JRE 8 update, check with AltiGen about the latest supported JRE 8 version.

1. Download the JRE 8 64-bit offline from Oracle. Make sure you download "Windows x64 Offline."

2. Stop the Apache Tomcat Service from the control panel.

3. Run the JRE setup file on the AltiReport 8.5 system. The setup filename will be similar to "jre-8u144-windows-x64.exe."

4. During the installation process, you will be prompted to uninstall the old JRE or Java versions. You can uninstall the older JRE versions if you are sure those versions are not used by any other applications on that system.

5. Run C:\Program Files\Apache Software Foundation\Tomcat 8.5\bin\Tomcat8w.exe.

6. On the Java tab, for the field Java Virtual Machine, assign the complete path of the newly installed Java Virtual Machine and click OK or Apply.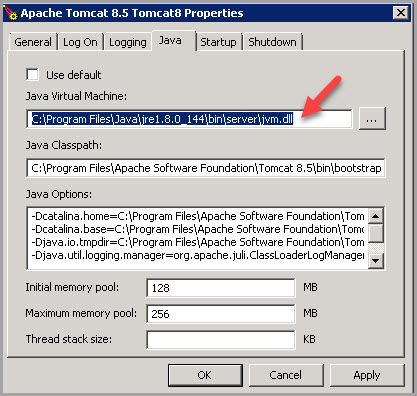 7. Restart the Apache Tomcat Service.
Attachments
No attachments were found.
Related Articles
Visitor Comments