Disabling SSL on a MAXCS 8.5 System
Updated 1/11/18: Updated to reflect TLS 1.2 with Polycom phones

If your organization has chosen to diable SSL 2.0 and 3.0, follow these steps to disable SSL for MaxCS 8.5:

1. If you have Polycom phones, first perform this test: In MaxCS Administrator, change the BLF setting of a Polycom extension and click Save and Reboot Polycom phone. (PBX > AltiGen IP Phone Configuration, on the Polycom tab.) After the phone restarts, confirm that the configuration on that phone updated correctly.

2. Download IIS Crypto 2.0 from the web. Install it on the MaxCS server.

3. Run IIS Crypto and click the Best Practices button.

Note: Make sure that you do not disable TLS 1.0; TLS is required for Polycom phones and remote desktop access.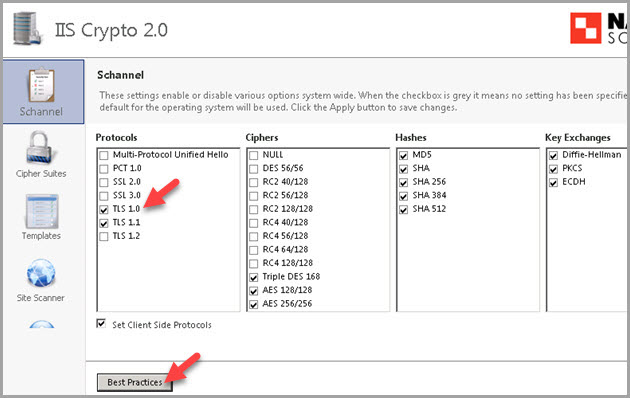 For environments with Polycom phones, do not check the TLS 1.2 option unless your organization requires TLS 1.2. To use TLS 1.2, you must purchase a public certificate, your VVX phones must be on firmware version 5.6.0.17325 or above, and you must be running MaxCS 8.5 version 8.5.0.301 or later.

4. Click Apply.

5. Reboot the MaxCS system.

6. If you have Polycom phones, perform these steps when the MaxCS system has restarted (refer to the Polycom Configuration Guide and the MaxCS Administration Manual as needed):

a) Repeat Step 1 and confirm that BLF changes are still correctly implemented.

b) Confirm that the Corporate Directory feature on Polycom phones works correctly.

c) Make some test calls on Polycom phones to confirm that calls can be placed and answered correctly.
Attachments
No attachments were found.
Related Articles
Visitor Comments
Article Details
Last Updated
11th of January, 2018
Would you like to...

Print this page

Email this page

Post a comment

Subscribe me

Add to favorites

Remove Highlighting

Edit this Article

Quick Edit

Export to PDF
Thank you for rating this answer.