Now Shipping Class 2 PoE Modules

IEEE 802.3af is a common Power over Ethernet (PoE) standard used by AltiGen for the ALTI-IP710 and ALTI-IP705 model phones. This allows the phones to be powered over a Category 5 compliant or better cable. Both of these phones require the addition of a separate PoE module that installs in the base of the phone in order to take advantage of a PoE switch. When using PoE, both the IP710 and IP705 phones draw 70mA at 48 volts DC equaling 3.4 watts.

The older model PoE module, P/N MSC-IP7XXPOE did not have a PoE Class Specification, causing a number of routers to recognize them as Class 0 and set aside the maximum power (15.4 watts) for each port running a class 0 device. This can result in problems powering all ports (for instance, power will be transmitted to only 24 ports of a 48 port switch). While it was usually possible to work around this limitation by manually defining the maximum power provided per port via the switch configuration, we are now shipping updated class 2 PoE modules which should eliminate this potential issue. Several models of the modules are pictured below so you can easily identify them in the field.

Note that the datecode must be included in any RMA requests for PoE modules.


Current shipping Part number: ALTI-POE904-CL2 (PoE Class2) with the date code circled.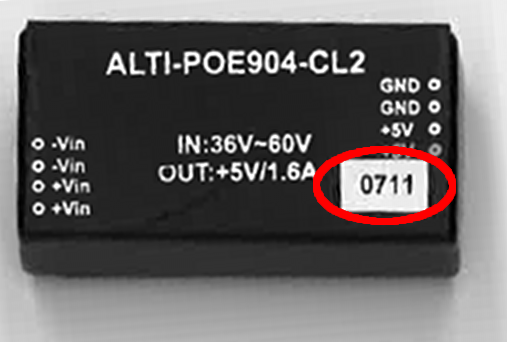 Part number: MSC-IP7XXPOE-CL2 (PoE Class2)
Obsolete Part Number: MSC-IP7XXPOE (PoE module without Class2 capability)