Field Alert #271 - Windows Updates Recommended Setting


This field alert describes the recommended setting for Windows Updates.

All current versions of Microsoft Windows include an OS update utility – Windows Update or Microsoft Update. These utilities can be configured by the local or domain administrator to automatically download and install Windows fixes.

To check the current configuration of Windows updates on your MAXCS system, click Start > Control Panel > Automatic Updates. If running Windows Server 2008, click Start > Control Panel > Security > Windows Update. AltiGen strongly recommends selecting the option Notify me but don't automatically download or install them: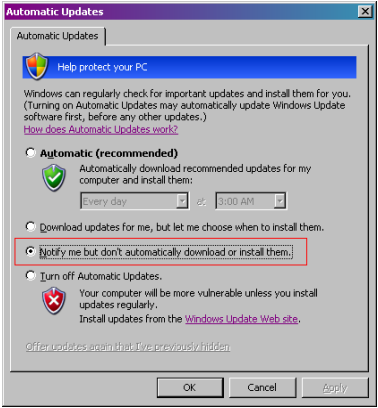 The Automatic and Download updates for me, but let me choose when to install them options should not be selected. Both of these options can cause issues with MAXCS. If all options are grayed out, the domain administrator has configured a group policy to disable changes by the local administrator; follow up with your client's IT staff to configure the appropriate option.

AltiGen strongly recommends that Windows Updates be installed on a scheduled basis, as long as the automatic download and/or installation features are disabled in Automatic Updates.

Windows Updates can always be installed from the following Microsoft web site:

http://windowsupdate.microsoft.com
Attachments
Related Articles
No related articles were found.
Visitor Comments